Blended learning classes combine a mix face-to-face and web-based instruction, where 30%-70% of the instruction is delivered fully online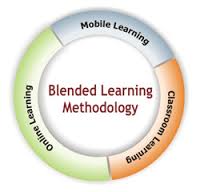 While fully online courses have become well established in higher education, blended learning courses are still being developed. The Blended Learning Toolkit notes that delivery of blended courses can be used to address a variety of needs, and can be part of a strategy to "infuse new engagement opportunities into established courses" and "offer the conveniences of online learning combined with the social and instructional interactions that may not lend themselves to online delivery".
I would argue that this is the case in secondary schools as well as higher ed institution. As we prepare our high school graduates for the new world of higher education, should we not also be preparing them to be successful online learners?
While computer science teachers regularly combine traditional face-to-face instruction with computer-based work (it is a computer science class, after all), developing a blended opportunity for your students is still a challenge for many teachers.
Incorporating online learning by using the same platform in both the schoolhouse and outside the schoolhouse is a perfect first step and allows students to have some "element of student control over time,place, path, and/or pace", a factor which The Next Generation Learning Center notes to be part of the definition of true blended learning.
In addition, consider this:
a blended learning approach may offer a wonderful opportunity to explore a personalized approach to your classroom as well. Using the open source course material gives students and teachers the opportunity to have students in the same "class", learning different course material, those which they are most personally interested in.
Eliza
Come explore our online IDE platform and numerous open-source courses to see how they might work for your blended classroom with a personalized approach.