The most significant new feature of the last 6 months is Codio Books. Until now, when you created your course materials, each course unit was its own Codio project. Switching between units required the new unit to be loaded, which can take several seconds. This is annoying when you want to reference learning materials and earlier assessments. When revising materials, this is especially annoying as the reloads become very irritating.
As a result, we created Codio Books. The vastly improved table of contents allows you to create very large bodies of content, divided up into chapters, sections and pages, nestable to any level. All of this content lives within a single Codio project, so students are free to switch between any part of the course without reloads.
When you create your course units, you can now also map a unit to any part of a book that you like. Students can, at your option, be restricted to the book content mapped to the unit, or you can allow them access to the fun book.
Feature summary
Sophisticated table of contents
Multi select and drag and drop of table of contents elements
Nesting of sections and pages to any level
Content search
Map any part of a book to a course unit
Publish as a standalone book (without unit mapping)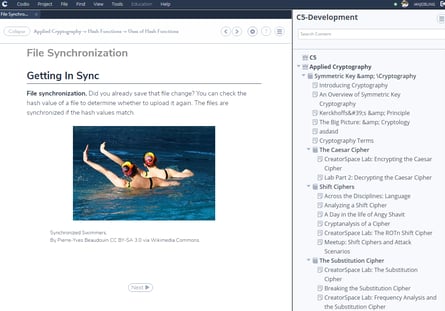 For more information on books see Full Documentation