---
Recent Improvement Features
At Codio we are continually upgrading and adding features based on your feedback. Here are a few great features and improvements that are now released.
---
It's often helpful to test the student experience before the start of a class. Any new user now has access to student dummy accounts so you can experiment and gain a student perspective. We also have a new onboarding guide to help you get set-up quickly.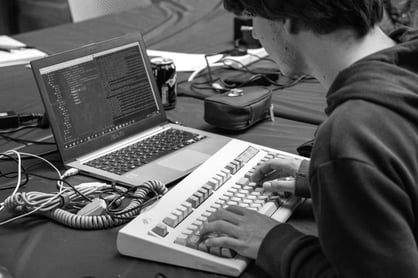 You can always author your own curriculum. But, you might not realize that Codio has a growing amount of 'off-the-shelf curriculum mapped to national standards for the United States and UK. You can repurpose part or all of it for your needs. We are proud to announce that in collaboration with the Computer Science Teachers Association, we have a new curriculum for both High School and Middle School level students. The curriculum covers Big Data, cyber-security, algorithms, databases, ethics and programming.

You have always been able to Download your complete project from Codio as a zip file. Now you can also download individual files. Simply right click the file in the file tree and select the new 'Download' option. Full documentation.
We are really excited to announce that you can add audio files to your projects and programme specific actions to occur while the audio is playing (open/close a file or the terminal, run a command, highlight some text, etc). You can also suppress the page numbering in the Guides Play mode and hide the main Codio menu items when a unit is used with a class.
You can now push updates to your students, even if they have already started a unit. The benefit is time saved for both you and your students as they are no longer required to start again. Full Documentation.
---

Have any feature requests?
We want to make sure that Codio is the easiest possible platform to teach coding and programming. If you do have any suggestions, please email us at help@codio.com.
Have a great day!
---